Periodontal (Gum) Disease Treatment in Houston, TX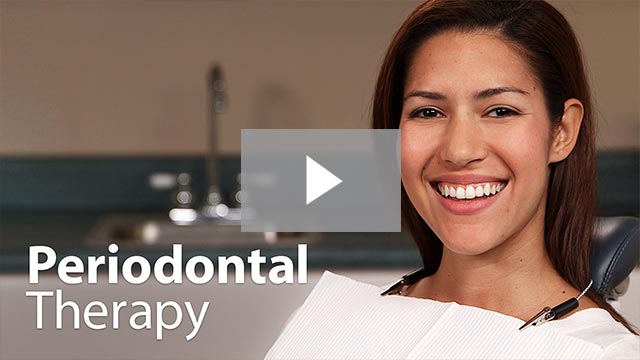 Periodontal (gum) disease is an infection that is a result of built-up plaque and tartar irritating the soft tissue surrounding the gums. Without early intervention, gum disease can advance and cause irreversible damage to your gums, teeth, and even the jawbone supporting them. Luckily, at Sonrisa Dental in Houston, TX, we offer a number of periodontal treatments to help relieve gum disease symptoms, eliminate harmful bacteria, and start the journey towards a healthier smile!
Types of Gum Disease Treatment
At our Houston, TX office, our periodontist provides both surgical and non-surgical treatments for gum disease.
Non-Surgical Treatments
Scaling & Root Planing – The most traditional form of periodontal treatment, scaling and root planing is essentially a deep cleaning of the teeth and surrounding gums, followed by smoothing the roots of teeth.
Arestin – Arestin is an antibiotic treatment that is used to treat infected gums following scaling and root planing.
Periodontal Splinting – Periodontal splinting involves bonding weaker teeth together that have suffered from gum disease. The procedure allows the teeth to become more stable and stronger.
Surgical Treatments
Periodontal Surgery – Periodontal surgery involves the sculpting of the gum line so that it is even and in proportion to your teeth. Commonly considered a cosmetic treatment, periodontal surgery can help reduce the size of the pockets formed from gum disease, greatly decreasing the risk of tooth loss.
Bone Grafting – This procedure is performed to help restore lost bone due to severe periodontitis.
If you're experiencing any symptoms of gum disease, such as bleeding or irritated gums, chronic bad breath, or tooth pain, contact our Houston, TX dental office today. Our Houston periodontist would be happy to assess your oral health to determine if you are in need of one of our restorative periodontal treatments.
Dr. Tutu Omilabu
DDS (Doctor of Dental Surgery)
Dr. Tutu Omilabu has over 20 years of experience as a Dental Surgeon. She holds a D.D.S. degree from the prestigious New York University College of Dentistry and a BDS degree from the highly reputed University College Hospital, Ibadan, Nigeria.