Dentures in Houston, TX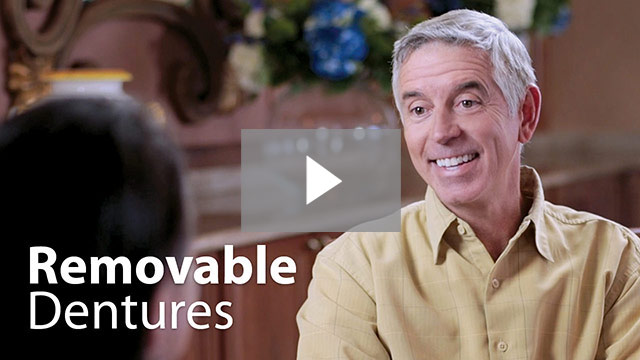 For multiple missing teeth, dentures are an effective solution. These dental fixtures replace natural teeth and are removable, to be used as needed. Depending on a patient's need, full or partial dentures can be made. At Sonrisa Dental in Houston, TX, we offer both full and partial dentures.
Types of Dentures
There are two types of full dentures:
Conventional Full Dentures – All the teeth are removed, and the gum tissue is left to heal before dentures can be placed. This process could last a few months, and during this time, you will go without teeth.
Immediate Full Dentures – Before removing the teeth, measurements are taken, and dentures are fitted to your mouth. This makes it possible for the dentures to be placed in the mouth immediately after the teeth are removed, so you do not go without teeth for any period. With this type of denture, however, it is necessary to have a follow-up visit to refit the dentures, as the jawbone will change shape slightly as your mouth heals.
If some of the natural teeth remain, partial dentures can be made. Partial dentures, or overdentures, fit over natural teeth after those teeth have been prepared by your Houston dentist, Dr. Tutu. In this way, they are similar to bridges, though they are removable.
Managing Your Dentures
Whether they are partial or full, dentures normally take time to get used to. The base of the dentures are flesh-colored and fit over the gums, which some patients say feels bulky or doesn't leave enough room for their tongue. Over time, your mouth should become accustomed to the feel of the dentures and, while they may never feel completely natural, you will be able to use them as natural teeth, eating and speaking as normal. They will need care as natural teeth do, with regular brushing, and should be kept in room temperature water or a denture cleaning solution when being stored.
Interested in restoring your smile with dentures? Book a consultation with our Houston dental office today!
Dr. Tutu Omilabu
DDS (Doctor of Dental Surgery)
Dr. Tutu Omilabu has over 20 years of experience as a Dental Surgeon. She holds a D.D.S. degree from the prestigious New York University College of Dentistry and a BDS degree from the highly reputed University College Hospital, Ibadan, Nigeria.