Custom Mouthguards in Houston, TX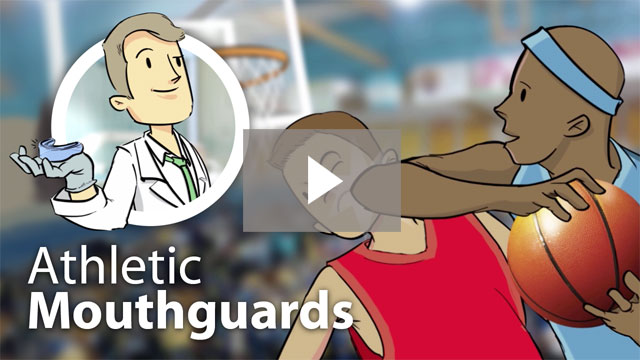 Mouthguards provide much-needed protection against oral injuries for any athlete but are especially important to those who play football, hockey, lacrosse, baseball/softball, wrestling, basketball, and any other sport in which there may be contact. According to the American Dental Association, an estimated one-third of all dental injuries are sports-related. The use of a mouth guard can help prevent over 200,000 injuries a year. Failing to use them can result in such injuries as chipped or broken teeth, lip and cheek injuries, and even root damage to the teeth and jaw injuries. Mouth guards have also been shown to help in reducing the risk of concussions. At Sonrisa Dental in Houston, TX, we offer custom protective mouth guards to keep your smile safe!
Types of Mouth Guards
There are three types of mouth guards:
Stock –

the most inexpensive type of mouth guard, but comes with the drawback of also being the worst-fitting one. Because they come preformed and ready-to-use, they can do the job, but often don't fit very well, possibly making it difficult to talk or breathe.

Boil and bite –

more customizable than stock mouth guards, and therefore provide a better fit. They are made of a thermoplastic material, which is meant to be placed in hot water to soften, then placed in the mouth to change the shape to fit around the teeth.

Custom-fitted –

the most effective type of mouth guard. These mouth guards are made in a dentist's office or professional laboratory using a special material and therefore provide the best fit.
Protect your smile with custom sports mouthguards; schedule an appointment with our Houston, TX dental office for your own set of custom mouth guards today!
Dr. Tutu Omilabu
DDS (Doctor of Dental Surgery)
Dr. Tutu Omilabu has over 20 years of experience as a Dental Surgeon. She holds a D.D.S. degree from the prestigious New York University College of Dentistry and a BDS degree from the highly reputed University College Hospital, Ibadan, Nigeria.