Orthodontics in Houston, TX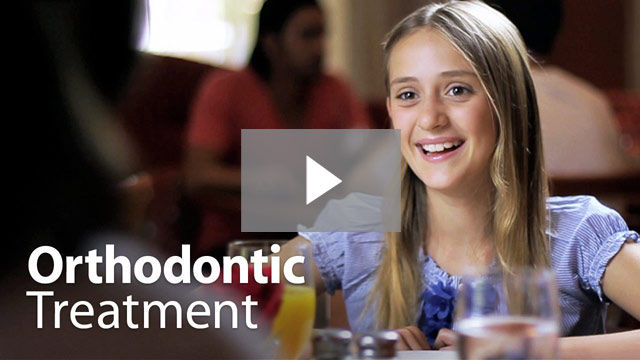 Orthodontic treatment is designed to correct a smile that has signs of crowding or gaps, in addition to any bite issues. At Sonrisa Dental in Houston, TX our orthodontist offers different treatment options to correct these common complications for a beautiful, healthier-looking smile. We are proud to offer traditional braces, clear braces and ceramic braces at our Houston, TX orthodontic office.
Traditional Braces in Houston, TX
Looking for traditional braces in Houston? Traditional braces have always been around, and have been proven as an effective way of straightening crowded teeth, teeth with gaps, or general misalignment problems. They are composed of metal wires and brackets that gradually shift your teeth into a more desirable place over time. They come in multiple styles of colored brackets, so you can show off a personalized touch through your smile! Interested in correcting the function and appearance of your smile with braces in Houston?
Clear Braces in Houston, TX
Are you looking for a clear braces option in Houston? When patients hear the term "braces," they automatically think of the traditional metal braces composed of distracting metal wires and brackets. Many times, teens and adults may shy away from this form of orthodontic treatment, simply because they are not considered the most visually appealing. However, advances in dentistry have allowed the creation of clear or ceramic braces, a newer form of orthodontic treatment that produces the same results as traditional braces but is designed to blend in with your natural smile. Interested in our ceramic braces in Houston? Schedule your orthodontic appointment today!
Considering traditional, ceramic or clear braces in Houston, TX? We provide orthodontic treatment to patients in Houston, Westbury, Missouri City, Bellaire and the surrounding areas of Texas. Book a consultation with our Houston orthodontist today to discuss your treatment options! We'd be happy to evaluate your oral health to determine which braces are right for you.
Dr. Tutu Omilabu
DDS (Doctor of Dental Surgery)
Dr. Tutu Omilabu has over 20 years of experience as a Dental Surgeon. She holds a D.D.S. degree from the prestigious New York University College of Dentistry and a BDS degree from the highly reputed University College Hospital, Ibadan, Nigeria.